The Perler iron-on beads allow you to create many things. You can create a coaster, jewelry, a key ring, Christmas ornaments or even a spectacular bowl when the beads are baked! We'll give you some tips on how to get started with Hama iron-on bead designs.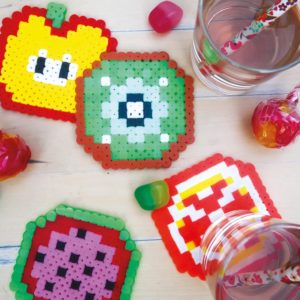 Perler ironing beads – Techniques to get started
Creating beautiful things with hama beads is really satisfying. An adult will enjoy it, while a young child can develop his or her sense of coordination and patience. Creative hobbies are fun and entertaining. Let your imagination run wild… Why not? Here are some techniques that will allow you to start creating with Hama iron-on beads.
What materials to use for iron-on beadwork?
To make a creative iron-on bead craft, you only need a minimum of materials. There are a few optional tools that can help you in the realization of your works of art.
Iron-on beads
There are 3 types of ironing beads. The Hama STANDARD beads are 5 mm in diameter, the MAXI beads are 10 mm and the MINI beads are 2.5 mm. The latter are used from 10 years old because they are more difficult to handle. Check the size when you choose your bag.
One or more spike plates
Small round plate or large square plate, you choose the model that suits you. Be sure to use the small plates that fit the size of your Hama beads.
Protective paper
An iron
Bead catcher (optional)
Masking tape (optional)
You are ready to start creating your iron-on bead designs! When you have finished decorating your plate, it is time to iron.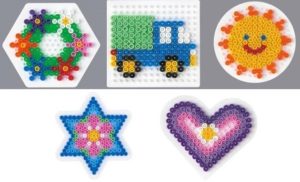 How do I iron Hama beads?
Get an iron. Preheat it and turn off the steam.
Cover your Hama bead art with ironing paper.
Run the hot iron over all the Hama beads for about 20 seconds. Don't stay on the same spot for more than 2 or 3 seconds. Use circular motions so that the Hama beads melt evenly.
To get a flat result, place a heavy object on the paper for a few minutes. A book (or a stack of books) is the most convenient. Let it cool.
Finally, peel the paper off the Hama beads. Your creation should be perfectly uniform.
What paper should I use for the iron-on beads?
To make a Hama bead creation, it is advisable to use ironing paper. It is a material that is offered for sale on the sites of creative leisure. You can find it in rolls. In addition, in the kits and boxes of ironing beads, we usually find a sheet of ironing paper.
If you do not have ironing paper available, you can replace it with parchment paper or baking paper. This is designed to withstand high temperatures.
Hama beads – Tips to improve your creations
Are you enjoying more and more creative activities with Hama beads? Get out your colorful assortment, the handicraft activity is not over yet! To make your Hama bead crafts a success and make your creative ideas stand out, here are some new tips. The Hama bead is not finished making news…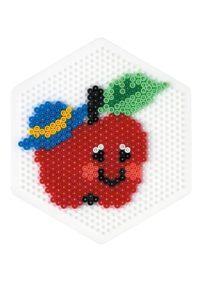 What is the masking tape trick?
The small tubes are used to make many figures. Elegant unicorn, twirling butterfly or funny Santa Claus, you don't want your Hama bead creation to break during ironing? Are you afraid of melting the backing plate? The masking tape trick is for you!
Decorating materials can melt when ironed. To avoid this, use painter's tape to hold all your beads and remove the backing. Place the masking tape on top of the Hama beads, overlapping them. Next, gently remove the backing plate by flipping the whole thing over. Place the ironing paper over the plastic beads and then run the hot iron. It's as easy as pie. In reality, it takes a few tries to understand the technique…
What not to do?
Don't forget to put a heavy object on top of the Hama iron bead creation. Otherwise, your work of art may be deformed.
It is essential to remove the steam from the iron, as it may damage the Hama beads.
It is possible to leave a gap between several beads, but make sure that the beads are touching each other as little as possible… You don't want to end up with two separate pieces once you've ironed.
What are the tips for Hama beads?
To avoid dropping the beads when ironing, start ironing on the edges.
If when you iron the Hama beads one or two have fallen off, don't panic! Replace them with a toothpick. Be careful, it's hot!
The art of Hama beads is in the length of time you iron them. Make sure you iron long enough to get all the beads to fit together, without overdoing it. Otherwise, you risk damaging the pins on the plate.
To get a strong iron-on bead pattern, you can iron the back of the creation a second time. Perform each ironing step again.
Hama iron-on beads make a fun craft to make. Glitter beads, multicolored beads or silver beads, see life in all colors! The small beads are made of polymer clay. Transparent or fluorescent beads, there is really something for everyone. We wish you to make many decorations. Happy crafting to all!